We're teaming up with other food and garden bloggers to host Fall Fest 2010, a season-long garden party. Each week we'll feature favorite garden-to-table recipes and tips to help you enjoy the bounty, whether you're harvesting your own goodies or buying them fresh from the market. To join in, check out awaytogarden.com.
While you're carving jack-o'-lanterns for Halloween, hold onto the gook and make your own homemade stash of roasted pumpkin seeds. They'll last for about a week tightly sealed, or you can keep them in the freezer for a month.
Roasting pumpkin seeds is simple with Alton by your side. See how he does it:

And, once you have your stash, here are some great ways to use pumpkin seeds.
Sweet and Spicy Pepitas Popcorn Balls (pictured at top)
Give popcorn balls some fall flair by mixing in pumpkin seeds and bright cayenne pepper.
Pumpkin seeds add crunch and flavor to creamy pudding.
Pepita Rice Pudding
Dress up store-bought rice pudding with a toasty pumpkin seed and raisin mixture.
Alton makes pumpkin seed brittle with his seed stash.

Pumpkin Seed Brittle
Skip peanuts and make this sweet treat with pumpkin seeds.
What's your favorite fall food to stash? Shout it out in the comments, or share your favorite recipes on Twitter at #fallfood.
More Mad Stashes with Friends and Family:
More posts from Kirsten Vala.
Similar Posts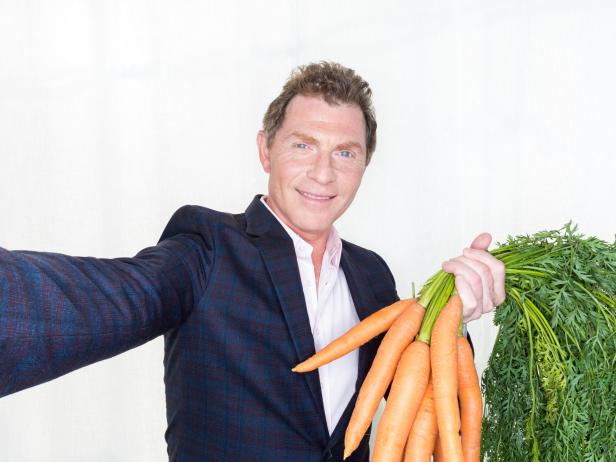 Food Network star Bobby Flay is no stranger to the idea that people want to eat more fruits and vegetables....