Simon Majumdar (second from right) enjoys a break from the seriousness of his first day as a judge on The Next Iron Chef.
Next Iron Chef judge Simon Majumdar joins us on the FN Dish each week to share his insider's take on what went down Sunday night.
The task that lay ahead of the judges became apparent the moment the contestants for Season Three of The Next Iron Chef were introduced. All were serious players and every one had a chance of making it to Kitchen Stadium.
The first challenge gave the chefs a chance to show us their chops, or indeed their corn, limes, fish or whatever ingredient they had offered up when asked what their desert island "must have" would be. Some might have regretted their enthusiasm once they knew they had only an hour to show their chosen item to its best effect while battling blowing sand and the encroaching waves.
The end results caused much discussion amongst the judges. Chef Tsai was a unanimous winner, but who was to be eliminated provided a more heated argument. Iron Chef Symon finally gave Chef Pagan a pass for having sand in his dish and he survived. So too did Chef Estes, but only by the skin of her teeth, and very possibly because we were already a bit scared of her.
That left Chef Andrew Kirschner, whose food I admire, to be the first to hear the dreaded words "You will not be the next Iron Chef." A great shame, but that's what you get for serving fatty duck and trying to blow Donatella's head off with a hot pepper.
Look inside Chef Kirschner's Next Iron Chef journal and flip through our behind-the-scenes gallery from Episode 1.
More about Simon Majumdar:
Simon's Website
Simon's book, Eat My Globe
Follow @SimonMajumdar on Twitter
More posts from Simon Majumdar.
Similar Posts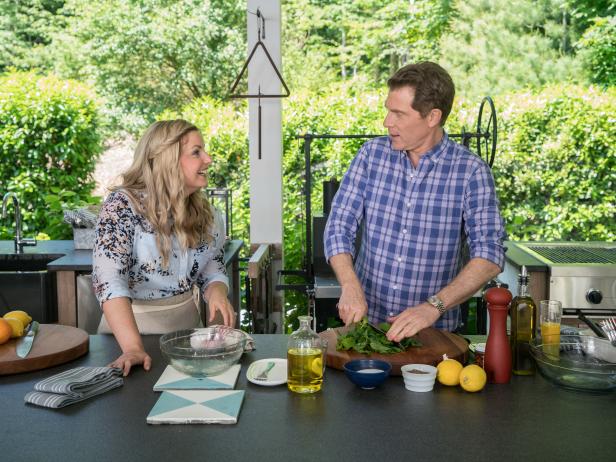 Get the latest details on the all-new series, The Bobby and Damaris Show....