Rahm Fama, host of the new Food Network series Meat & Potatoes, is a self-proclaimed meat nerd. "If you're a car nerd, you know as much as you can about cars, but you'll never know everything. You're always willing to learn more," the enthusiastic carnivore explains. "I am consistently and always excited to learn about new meat."
On Meat & Potatoes, Rahm travels the country, checking out (and, naturally, tasting) the best and most interesting meat and potatoes America has to offer. It's a dream job for a guy who grew up working on his family's cattle ranch in Santa Fe, New Mexico and then became an established restaurant chef.
To get everyone in a meaty mood for Friday's premiere of his new show (10pm/9c), we played a little meat-and-potatoes word association with Rahm. His pairings will undoubtedly induce cravings, so try them out at home with some top Food Network recipes…
Let's start with a classic. French fries and ________?
You know, I'm actually not going to go with a burger. I'd do steak au poivre with pommes frites.
Braised short ribs and _________?
Short ribs go great with pureed potatoes.
Potato gratin and _________?
I'd do a grilled filet mignon—gotta have those char marks.
Chicken-fried steak and ________?
Fork-mashed potatoes. Leave the skins on, keep it a little rustic.
Loaded hot dog and _________?
There's nothing I like more than a potato latke or potato cake. So that's a fancy way of saying tater tots.
Ribeye steak and _______?
I love whole braised fingerling potatoes, braised in olive oil and roasted in the oven with rosemary.
Hash browns and __________?
Gotta do those with steak and eggs.
Pastrami sandwich and _________?
I just had one on the show that comes with poutine. Delicious. Very low-fat.
Twice-baked potatoes and _________?
My favorite steak to go with a twice-baked is a hanger steak or flank steak.
Breakfast sausage and __________?
I would cook the breakfast sausage, cut it into pieces and toss it all together with diced home fried potatoes with peppers, make it kind of a hash.
My last meal would be ________ and a side of ________?
It would be a dry-aged New York steak with pommes frites. Cooked in duck fat.
Catch the premiere of Rahm's new show, Meat & Potatoes, this Friday at 10pm/9c.
More posts from Sara Levine.
Similar Posts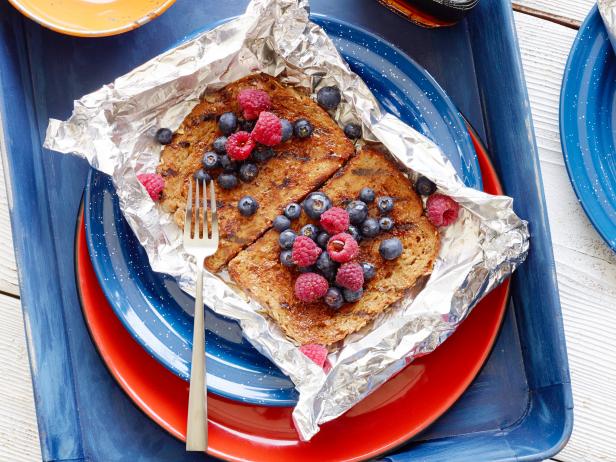 Maximize you're time outside this summer and grill up amazing breakfasts, lunches and desserts!...