We're teaming up with other food and garden bloggers to host Fall Fest 2010, a season-long garden party. Each week we'll feature favorite garden-to-table recipes and tips to help you enjoy the bounty, whether you're harvesting your own goodies or buying them fresh from the market. To join in, check out awaytogarden.com.
Bring on the apple crisp, baked apples and applesauce-d pork chops  — apple season is here! From popular supermarket varieties to the thousands of heirloom types you can pick up at a local farmers' market, each apple has its own personality.
Some apples stand up to baking, while others fall flat in the oven. Some are too tart to munch on, but perfect for pies. So, how do you choose? Here's a primer on picking the best apples for the job.
Best to Resist Browning
Apple Type: Cortland
Why They Work: Juicy, mildly tart Cortland apples don't oxidize as quickly as some varieties, so you can avoid ugly brown apples in your salad or lunch sack. To discourage browning on any apple, dip in lemony water just after slicing.
Other Good Choices: Golden Delicious, Ginger Gold
Recipe to Try: Apple Moons
Best to Pair With Cheese
Apple Types: Honeycrisps with blue cheese; Cortlands with cheddar; Granny Smiths with taleggio
Why They Work: The Honeycrisp's honey-sweet flesh pairs well with bold cheeses, while mildly-tart apples pair well with nutty aged cheddar. For rich, soft cheeses like taleggio and brie, the Granny Smith's acidic flavor helps cut the fat.
Recipe to Try: Paula's Nut-Glazed Brie With Apples
Best for Apple Bobbing
Apple Types: Gala and Jonagold
Why They Work: Round, long-stemmed apples like these varieties are easiest to catch.
Best For Cooking Whole
Apple Type: Jonagold
Why It Works: This bumpy cross between Jonathan and Golden Delicious has a tough skin and firm flesh that holds its shape while cooking.
Other Good Options: Gala, Granny Smith, Jonathan, Golden Delicious, Braeburn, Gala, Rome Beauty
Recipe to Try: The Neelys' Baked Apples
Best for Long-Term Storage
Apple Type: Arkansas Black
Why It Works: These crisp, dark red apples have a firm flesh that keeps very well when stored in a cool, dark place. To increase the shelf life, keep apples in the coldest spot in your refrigerator.
Other Good Choices: Blushing Golden, Bonnie Best, Rome Beauty
Best For Baking
Apple Type: Macoun
Why It Works: To make pies,crisps and tarts, you want an apple that will remain flavorful and firm during cooking. This dark red cross between McIntosh and Jersey Black delivers.
Other Good Options: Granny Smith, Baldwin, McIntosh, Cortland, Golden Delicious, Baldwin
Recipe to Try: The Neelys' Apple Crisp (pictured)
Best for Sauces
Apple Type: Idared
Why it Works: This cross between Jonathan and Wagener has a strong apple flavor that holds up well during the cooking process. Cook with the skin on and strain for a lovely pink applesauce.
Other Good Choices: Jonathan, Fuji, Golden Delicious, Paula Red, Macoun, Jonagold, Gala, Cortland
Recipes to Try: Alton's 10-Minute Applesauce
Best For Raw Munching
Apple Type: Honeycrisp
Why It Works: For eating out-of-hand and topping salads, you want an apple with sweet flavor and super-crisp flesh. Honeycrisp has the perfect combination of sweetness and crunch.
Other Good Options: Red Delicious, Gala, Golden Delicious, Fuji, Jonathan, Cortland, McIntosh, Braeburn, Pink Lady
Recipe to Try: Beet and Apple Salad
TELL US: What's your favorite kind of apple?  Shout it out in the comments, or share your favorite apple recipes on Twitter at #fallfood.
More Apple Recipes From Friends and Family:
More posts from Liz Gray.
Similar Posts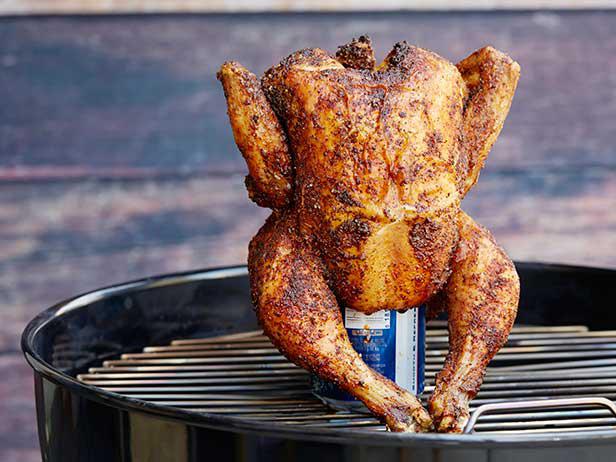 This clever grilling technique is easy enough to perfect even on your first try making it....