Irresistible Swiss Chard Lasagna from Food Network Magazine
We're teaming up with other food and garden bloggers to host Summer Fest 2010, a season-long garden party. Each week we'll feature favorite garden-to-table recipes and tips to help you enjoy the bounty, whether you're harvesting your own goodies or buying them fresh from the market. To join in, check out awaytogarden.com.
I sometimes forget about summer greens until I run into a beautiful, compelling pile of chard or mustard greens at the farmers' market. For my next impromptu purchase, I've tapped into the expertise of Alton, Giada and the Food Network Kitchens. I might even head out to buy greens on purpose now, with these three winning recipes (plus Alton's cool washing method!) at my fingertips.
Swiss Chard Lasagna from the Food Network Magazine
Swiss chard is the star of this easy vegetarian main, but there's just enough heavy cream and cheese to swing it out of the health food realm and into the comfort food category. Both a pro and a con in my opinion, but it looks too tasty to resist.
Alton' s Mustard Green Gratin
With cheese, mushrooms, garlic and a buttery cracker crust Alton turns mustard greens into an irresistible side. And if you happen to have beet greens on hand, don't miss his beet green version.
Giada's party-perfect pasta with greens
Giada's Orecchiette With Greens and Ricotta Salata
Giada has a never-ending string of amazing pasta dishes, and here she works her magic with mustard greens, Swiss chard and spinach. It looks like a quick, healthy dinner option or even a side dish for a cookout crowd.
How to Clean Greens: Alton uses his washing machine!
More Greens, Beans and Herbs with Friends and Family:
Past Summer Fest Picks: FN Chefs' Creamed Corn-Off and Paula's Best Zucchini Bread.
Join the conversation on twitter at #summerfood.
More posts from Kirsten Vala.
Similar Posts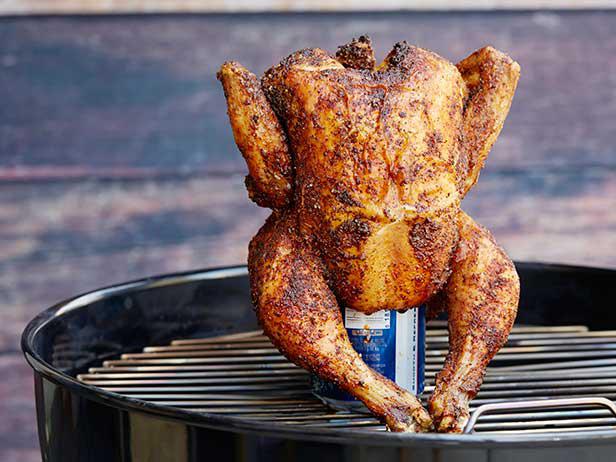 This clever grilling technique is easy enough to perfect even on your first try making it....