Food Network Magazine's restaurant-inspired Chicken Lettuce Wraps, a recipe you've been begging for!
We know you're talking about Food Network, and yes, we are listening! We read your Facebook wall posts, your tweets, your comments on recipes and blog posts, and your blogs as well, and while we'd love to chat back and answer each question, there's just not time to give you the individual love you deserve.
What we can do is meet here to discuss hot topics and trends, your likes and dislikes, popular questions and debates — in social media.
We shared our Banana Dog (possibly the world's healthiest "hot dog") on Facebook, and while there were a few skeptics and hard-core hot dog enthusiasts who weren't up for deviation, many of you had great suggestions for alternate Banana Dog toppings, like honeydew melon relish, strawberry jam and Nutella.
Food Network Magazine asked you, via Facebook, which restaurant recipes you covet for their Copy That column, and nearly 300 of you responded with your ideas for recipes from Cheesecake Factory, Applebee's, Olive Garden, Carrabba's and Macaroni Grill! A few of you requested recipes the magazine has already recreated, like PF Chang's Chicken Lettuce Wraps , Bang-Bang Shrimp from Bonefish Grill and the Broccoli-Cheddar Soup from Panera Bread. And when we posted about the Orange Julius recipe from the May issue, you were vocal about your love for this frosty drink. Have you made the magazine's version of the shake yet? We love your suggestions (and enthusiasm) — keep them coming and look for your favorite restaurant dishes in upcoming issues of Food Network Magazine.
Here's a topic you went crazy for last week: international fare. When we asked our Facebook fans what international dishes they were craving, an overwhelming 700 (+!) responded with mouthwatering fare from around the globe. Some ideas were general, such as food from Italy, Singapore, Germany, or Ecuadorian, Thai, Indian or Puerto Rican dishes, and some of you had us salivating with mentions of mofongo, carne asada fries, falafel, ceviche, ramen, coq au vin, pho and chicken tikka masala. Thanks for inspiring us and each other (and for making us drool) with your great ideas for international meals!
Another inspiring topic, and it's a question we ask you on Facebook every week, is "TGIFood! What are you cooking this weekend?" Check out our Facebook page for hundreds of answers, but a glimpse of our favorites include: Colleen B's Homemade Spinach Pesto Pasta with Grape Tomatoes over Whole Wheat Noodles, Tarrah's Strawberry and Marscarpone-Filled Cupcakes, Annmarie's Escarole, Sausage and Cavetelli soup with homemade semolina bread, as well as s'mores, pizza, BBQ, pad thai, macaroni and cheese, potato salad, cupcakes, salt potatoes and gumbo. Whew. You guys are amazing.
And tops in twitter — @websterstyle names Food Network as one of their 10 to Follow on Twitter, @Christybelle plans on making Skillet Rosemary Chicken from the May issue of Food Network Magazine, and @KawaiiOne is concerned that FN chefs " . . need to fix hair in a way so they don't have to touch while cooking. Plz wash hands after touching hair. A must!"
So, keep your comments coming; we can't get enough. Your voices are loud and powerful; keep letting us know what you want more of, what you love, hate and crave, because really, we are listening.
And looking, too. Check out this great pic Jennifer W posted on our Facebook page.
More posts from Michelle Buffardi.
Similar Posts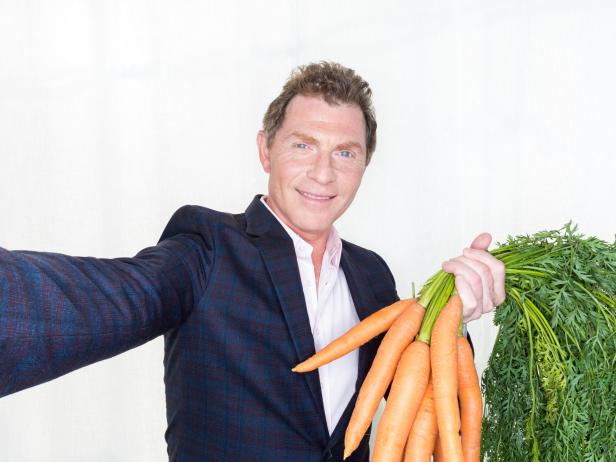 Food Network star Bobby Flay is no stranger to the idea that people want to eat more fruits and vegetables....