Jose Garces has a big Iron Chef America battle coming up Sunday night, but he's already a winner in my book. Our newest Iron Chef hails from Philadelphia—a city I love dearly (I went to college there). Garces opened his first restaurant, Amada, in Old City just a few months before I graduated, but it quickly became one of my favorite spots. His mini-empire has proliferated since, with restaurants all over Philly and one in Chicago.
Just a couple of months ago, he opened up a new gourmet market/cafe called Garces Trading Company, and he's got more ventures in the works. You may have seen him this week on Nightline, talking about Cinco de Mayo and his Latin roots. With all this plus his Next Iron Chef win last fall, I'd say Garces has experienced a pretty successful five years.
On a recent trip back to Philly, I was psyched to lunch at one of his latest ventures, Village Whiskey. While all of Garces's other restaurants are Latin-inspired (Amada does tapas, Distrito is Mexican, Chifa has Peruvian influences…), Village Whiskey is unapologetically American. Think burgers. Pulled pork sandwiches. Lobster rolls. Chicken-fried steak.
Inside, the narrow space has a speakeasy feel, with white-tiled walls, dark leather banquettes and wooden fans spinning overhead. Obviously, there's a long list of bourbon and Scotch. But we came for the food. Specifically, for the burger—the Philadelphia Inquirer has called it the city's best.
Once we snagged a table, we couldn't resist starting out with a few snacks. There's a whole section of pickled items on the menu, and they arrive in cute little jars with accompaniments of whipped ricotta, olive tapenade, and grilled sourdough. We went for the artichokes, and making our own ricotta-olive-artichoke crostini proved very delicious.
Next came some hot nibbles—soft pretzels (it's Philly, we had to!) and cheese puffs. The pretzels are tasty and buttery, but the cheese puffs are just plain addictive. They're a far cry from the neon orange childhood snack I knew and loved—these are light-as-air gougeres, served in a tiny cast iron skillet and sprinkled with Parmesan. Cheesy goodness.
Finally, the main event. Garces offers a haute version called the Whiskey King that's topped with foie gras, but we went for the classic Village Burger, choosing to add only cheddar. A great burger doesn't need anything more than that, and this was a prime example. Made with buns baked in-house and beef ground fresh daily, the result is juicy, meaty, perfectly seasoned and perfectly cooked. It looked massive when it arrived at the table, but miraculously, every last bite disappeared.
Hopefully Garces can work some kind of burger into an Iron Chef America battle one of these days—I have no doubt that it would wow the judges. Tune in to see the newbie Iron Chef take on Colorado chef Kelly Liken this Sunday at 10pm/9c.
More posts from Sara Levine.
Similar Posts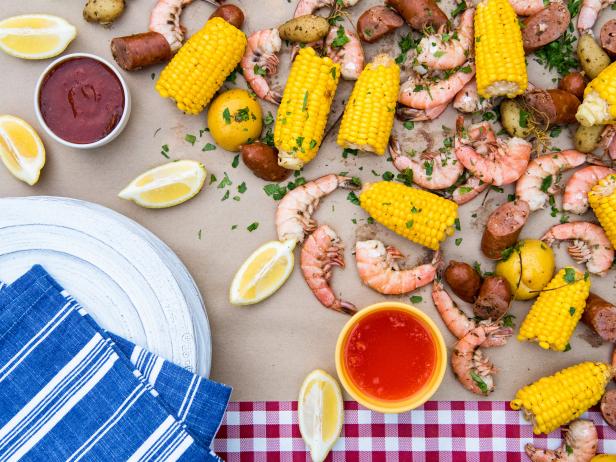 Have friends over — or embrace leftovers — with these Food Network recipes that feed more than four. ...