Sunday night's Hometown Favorites round marked the finale of Ultimate Recipe Showdown's third season. Contestants put their spins on recipes inspired by their towns and regions, and there was clearly a lot of pride in the kitchens. Southern food dominated this year—competitors hailed from Texas, Florida, Mississippi and Kentucky—but the diversity of dishes showed that there's a lot more to it than biscuits and gravy.
Katherine Alford, Vice President of Food Network Test Kitchens and a fixture on the URS judges' panel, loves this round: "It incorporates great American regional foods and each cook's personal food story. I think it's great when the contestants put their spin on a regional classic."
If you missed Hometown Favorites or any of the other Showdowns this season, you can still catch them on Food Network—check our schedule for dates and times. Today, Katherine chats with us about the very personal food prepared in the Hometown Favorites round and reflects on this season.
FN Dish: If you were to enter this round as a competitor, what would you make?
Katherine Alford: Oh my. That's a good one. My hometown now is New York, but I grew up all over from Cape Cod, Washington DC, Florida to California. So given all that coastal living, it's got to be a fish or shellfish dish. I'd say my take on a clam bake or crab boil. But maybe  grilled oysters, lobster rolls or something with beach plums. There are too many choices!
FN Dish: After sampling all the food in this round, which hometown region were you most inspired to visit?
KA: I think they all had a Southern flavor to them, which I love. I think there is nothing better than driving the back roads of the American South and eating at small local restaurants. But what is great is about this round is, we get to see what folks are cooking in their homes.
FN Dish: What were some highlights of this season for you?
KA: Honestly it's the contestants. They have my total respect. To come and compete on TV is really hard. Universally, they do it with great integrity, passion and humor. That is really cool. I love what I learn from them.
Warning for those who missed the Hometown Favorites round: Spoilers ahead!
Texan Cory Anderson took home the $25K with his signature round dish of Catfish Tacos with Cilantro Lime Slaw and Chipotle Cream Sauce. When we saw how many chipotles went into his blender for that sauce, we (and the judges!) were a tad nervous. But his finished dish was balanced, colorful and full of flavor.
We've got lots more ideas for tasty Tex-Mex cuisine to serve alongside Cory's tacos. With Cinco de Mayo coming up, they'd make a great party dish.  In our Cinco de Mayo package, you'll find lots of traditional Mexican dishes and others with some Tex-Mex flair.
Cory's biggest competition was Debbie Martin, who proved to be an expert fryer of green tomatoes in the speed round. Her Fried Green Tomato and Crab Salad with Sumac Vinaigrette is a cool twist on this Southern staple.
For more Southern recipes, look no further than our expert on the subject, Paula Deen. She's got plenty of her own takes on fried green tomatoes: For breakfast, try Paula's Fried Green Tomato and Egg Hollandaise; then move on to Fried Green Tomatoes with Vidalia Onion Relish for lunch or dinner.
Pat and Gina Neely, our barbecue aficionados from Memphis, also know a thing or two about Southern cuisine. Watch them make Memphis-Style Catfish and Hush Puppies and you'll be transported straight to Tennessee.
Mark Johnson represented Florida on URS with his Mango Pork Tenderloin with Ginger Rice and Grilled Pineapple. The juicy, ripe mangoes he brought to the URS studio straight from a tree in his backyard looked mouth-watering.
On FoodNetwork.com, check out lots of South Florida-inspired recipes from Miami native Ingrid Hoffmann. She also loves her Florida mangoes: Try Mango, Jicama and Radish Salad or Caribbean Salmon with Mango-Veggie Salsa and Guava Barbecue Sauce.
Finally, Brigitte Nguyen showed off Kentucky flavors with her Bluegrass Burgers and Kentucky Hot Browns. Brigitte was the runner-up in last year's burger round and came back for another shot, this time putting a hometown spin on her burger. Her patties were a little overcooked, but the judges loved the toppings of Kentucky-inspired ham "salad" and chow-chow.
Bobby Flay does all kinds of regionally flavored burgers at his Bobby's Burger Palace restaurants. We've got the recipes: Try Bobby's spice-rubbed Dallas Burger, cheese-and-onion smothered Philly Burger, Italian-inspired Arthur Avenue Burger and many more.
If you were competing in the URS Hometown Favorites round, what would YOU make? Let us know in the comments!
More posts from Sara Levine.
Similar Posts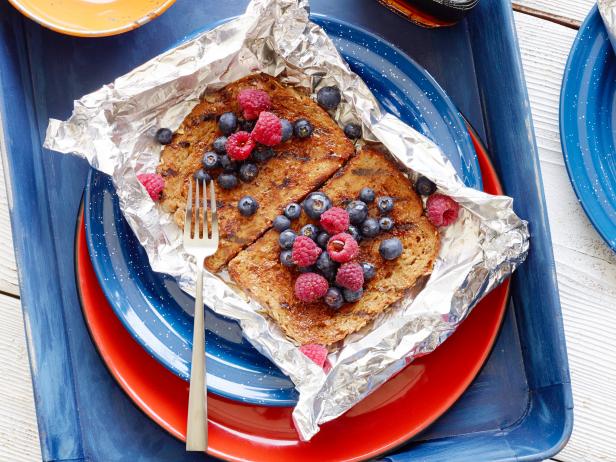 Maximize you're time outside this summer and grill up amazing breakfasts, lunches and desserts!...