Claire Robinson, known for her fresh and simple cooking style on 5 Ingredient Fix, is the new face of Food Network Challenge. Her first episode as Challenge host (Spongebob Birthday Cakes) premieres this Sunday at 8pm/7c.
We sat down with Claire in Food Network Kitchens to chat about her new gig, what to look forward to this season, and her own easy dessert signatures—they're quite different from the intimidating, gravity-defying sweets you'll see this season on Challenge!
FN Dish: You've wrapped your first season as host of Food Network Challenge…what does your job on the show involve?
Claire: I love that they've added the element of a host. Keegan's the M.C. and he's a rock star pastry chef. Did you know he was also a competitive biker? He's a major cyclist. He's awesome. But being the host, I feel like I'm the voice of the audience because I'm just like everybody watching at home. I don't have that level of skill, I'm not going to go home and do this stuff. If I went home and attempted this stuff, everybody beware because I'd probably burn down my kitchen. They use blowtorches and drills…don't give me anything power-operated! I'm able to ask the questions that the audience is probably thinking. "How did you do that? What made you think to sculpt it that way? How is that standing up? How do you make that so smooth?" Questions that there hasn't really been anybody asking, because these are a bunch of professionals. That's what I'm there to do.
FN Dish: If you were a competitor on Challenge instead of the host, what would be your ideal competition?
Claire: You know, if I was going to be a competitor for any of the cake or pastry world, I would lose. I do not have that skill! I would probably love to do one of the kind of unique challenges that we do, like the flair, cocktail-flipping, grilling or barbecue. Yeah, I'd want to do the barbecue competition. I'm from Memphis…I can cook some mean barbecue. But if anything, I would probably eat all of my co-competitors' mean barbecue!
FN Dish: Favorite FN Challenge this season?
Claire: The ones coming up are all really good, but there's one where they had to make villains in cake. There are some repeat competitors—a husband and wife team, covered in tattoos. You probably remember them; they were in our Simpsons show which was also one of my favorites in the past. You'll see why I loved this one. Let's just say, there's fire in the end. You're going to love it.
FN Dish: The intricate desserts involved in many Challenge episodes are very different from your own style of fresh and simple food. What's an easy, five-ingredient dessert that still wows guests?
Claire: When I first started cooking with the number five, I realized desserts were going to be tough for me. Baking, very tough. Then I found that there are already some desserts that are around five ingredients. I was really able to play with those—things like pot de crèmes, mousses, ice creams, shortbread. I was able to take those classic desserts, take them down even more so I could add more flavor and play with them a little bit. Also, lemon curd. I was able to do lemon curd in three ingredients. My Frozen Lemon Whip, that's perfect for warm weather, so good with blueberry sauce. I love that dessert. Also the Dark Chocolate Pot de Crème with Cherry Whip. So good.
FN Dish: Did you pick up any interesting cooking or baking tips from Challenge competitors?
Claire: I have. I've learned that the way they work with cake, if the competition requires tasting, they make the cakes differently. I'm constantly learning little things. How to hold their cakes, the importance of keeping everything cold. They're very organized, they have to be to be able to construct those beautiful sculptures. They're like artists. Very meticulous.
I've gotten to know the competitors—there are a lot of repeat competitors, then a lot of new competitors that you'll see this season. You'll see that we've really pushed the envelope of the level of competition that we're getting them to do this season. We have extreme elements, which you've probably seen in some challenges—we're doing that almost every time. Extreme means moving cake, or moving sugar. We have a Sugar Impossible show; their sugar sculpture had to move in some way. That's like moving glass! It was crazy. I learn things that maybe I will never use in my everyday life, but you never know. They teach me something new every day.
FN Dish: Occasionally, Challenge competitors crash and burn. What's your own most memorable kitchen mishap?
Claire: Oh, I've had quite a few…I'm not the most delicate flower in the kitchen! One of my probably worst experiences was when I was cooking a dinner party. I was working with white salmon—it's not really even salmon, but it's called wild white salmon. I wrapped it with prosciutto and was searing it in a pan, I over-seared it, it burned, and the whole thing kind of caught fire. I was trying to cook for eight for this really fancy dinner party and I really needed the money. And two of my fish were on fire. I ended up going in and trying to grab the owner of the home…I brought him in and I was almost in tears. "I almost burnt down your kitchen and my fish are on fire!" I couldn't get any more—it's a very rare fish and very expensive. When I brought him in, he said just cut some of the others in half and re-wrap them in prosciutto and re-sear and nobody will ever notice. I was so lucky that he was really cool about it. And then I realized, you know, life's too short. I'm doing what I love so much every day in the kitchen. It should be fun. You're going to make mistakes, guaranteed. As long as nobody knows…that's the little Julia Child in all of us! If anything, you can always call for pizza. Don't ever freak out…there's always food to be had.
FN Dish: Which FN stars inspired you before you joined the crew?
Claire: Oh my goodness. I love all of the Iron Chefs. Michael Symon is incredible; Michael's food combinations…wow. Are you kidding me! I think: That's so brilliant…why didn't I think of that?! Bobby Flay, I feel like I learn something different from him by watching him every time. All of them are so incredible and I look up to each one for all different reasons. I know that sounds cheesy, but I really find that there's such diversity here and there's really something for everyone. Each one of them may not be my personal cooking style, but I learn something from each and every person. Coming in as a newbie, they all kind of put their arms around you and take you under their wing and say, "Don't forget that you're doing what you love every day."
Tune in to watch Claire's debut on Food Network Challenge this Sunday at 8pm/7c. Catch 5 Ingredient Fix on Saturdays at 12:30pm/11:30c.
More posts from Sara Levine.
Similar Posts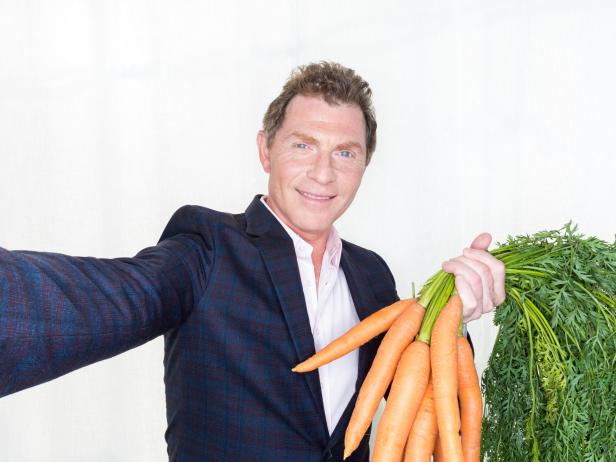 Food Network star Bobby Flay is no stranger to the idea that people want to eat more fruits and vegetables....