After four weeks of savory showdowns, bakers finally took the spotlight on Ultimate Recipe Showdown last Sunday. The Cakes and Desserts competition was a sweet tooth's fantasy: Layer cakes, cupcakes, crisps and cobblers, brownies (topped with cookie dough!) and more.
Food Network Kitchens' Katherine Alford, our in-house URS judge, is back this week to share some tips for baking perfection. And for those days when there's barely enough time to preheat the oven, she gives her favorite quick and simple dessert ideas.
FN Dish: This round can be tough timing-wise, since most of the cakes have to bake and then cool down enough to be frosted. Any tips for speeding up this process when you're in a time crunch and need to get the frosted cake to a party?
Katherine Alford: Cakes really do need time to ripen. Not just for icing, but also for flavor. Smaller is better obviously, like a cupcake—they cool down quicker. But always cool a cake on a rack out of the pan, and cool the layers separately. Pop it in the fridge first to cool it down and then move it to the freezer.
FN Dish: Cupcakes are huge right now. Can you make any cake recipe into cupcakes, or are there some that don't work as well? What should you keep in mind when using a cake recipe to make cupcakes?
KA: Simple cakes often work as cupcakes, but not always. I think chocolate works better. Don't over-fill the molds and bake for less time. Sarah Copeland, one of our recipe developers and a cupcake expert, suggests, too, that dense cakes (like carrot cake) make better cupcakes. The airy sponge cakes just get flat and tend to leak over the sides. Thick cake batters (dense cakes) hold their shape better and sometimes even dome a touch in muffin tins.
FN Dish: When there's no time to bake a cake, what are some of your favorite easy foolproof desserts for spring and summer?
KA: Fruit desserts are a fave. I love quick bettys and crumbles. When all the great fruits start coming in, I love simple glazed berries with a little brandy or rum on ice cream. A go-to dessert for me is Greek Spoon Sweets on rich yogurt. Crumble some cookies on top and you have a rich, creamy, sweet and crunchy dessert in absolutely no time.
Warning for those who missed the Cakes & Desserts showdown: Episode spoilers ahead!
Though Sunday's Cake round brought some impressive layer cakes and inventive cupcakes, the $25K recipe came from the free-for-all Dessert round. Judge Michael Psilakis called Andria Gaskins's Apple Crisp Bread Pudding "Rock Star". Andria wowed the judges by combining two comforting dessert favorites, apple crisp and bread pudding, and topping it off with a decadent apple brandy sauce.
To take the prize, Andria had to beat out Kathi Jones-DelMonte, who won the first round with her not-too-sweet Maple Sweet Potato Upside Down Cake (some of the judges thought it could have used a touch more sugar).  Kathi wasn't the only competitor to include some ingredients not often seen in cake batters—Kerstin Sinkevicius used plantains, the starchier and less-sweet cousin of bananas, in her Caramelized Plantain Cupcakes (above).
Check out all eight URS recipes on FoodNetwork.com, plus hundreds of other great dessert ideas. Did Kerstin's decadent Peanut Butter Cookie Dough Brownies—topped with a layer of eggless cookie dough—make your mouth water?  Try them out at home, or browse our extensive roundup of brownie recipes. If you're feeling inspired to make an impressive cake for company, our Crowd-Pleasing Cakes collection offers lots of recipes and tips.
No time for all that? Try one of Katherine's ideas for quick fruit desserts, or whip up a batch of cupcakes. Browse our new cupcake collection, full of classics and creative twists on the cute hand-held cakes, both from scratch and out of the box. They never fail to please dessert-lovers of all ages.
Don't forget to watch the season finale of URS this Sunday at 9pm/8c. It's the Hometown Favorites round, and this year's competitors are bringing big flavors from Texas, the Gulf Coast, Kentucky and Florida.
More posts from Sara Levine.
Similar Posts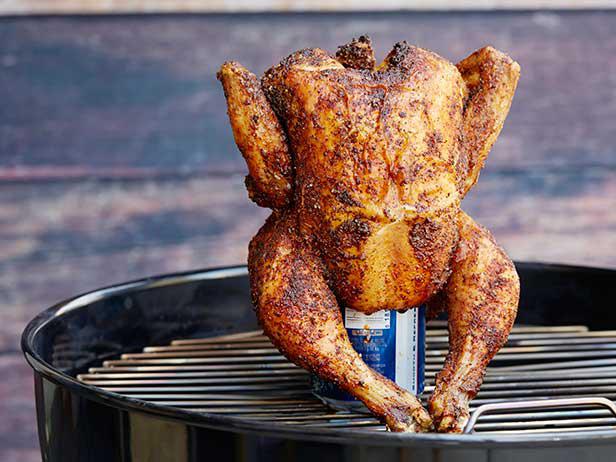 This clever grilling technique is easy enough to perfect even on your first try making it....