Any food-lover knows that burgers are all the rage these days, showing up on menus everywhere from dives to fancy four-star restaurants. Food Network chefs are all about them—Bobby Flay just opened up his fifth Bobby's Burger Palace, this one in Philadelphia, where fellow Iron Chef Jose Garces also has a terrific burger joint. On Ultimate Recipe Showdown this week, the competitors showed that home cooks can also make some killer burgers.
The burger episode was even more intense thanks to a heated battle-within-a-battle: Father versus Son. Michael Cohen went up against his dad, Harold, the reigning champ of last season's burger showdown.
The eight burgers presented were diverse in their toppings and flavors, and the judges pronounced many of them excellent. Today Katherine Alford, Vice President of Food Network Test Kitchen and URS judge, shares her expert insight on how to achieve burger perfection at home.
FN Dish: Many of the burgers in this competition had a lot going on, from salsas to dressings to herb butter to grilled lettuce. For you, what are the key components of a great burger?
Katherine Alford: For a classic, it's all about perfectly cooked, juicy, full-flavored quality meat. You need a bun that contrasts with the meat's texture but doesn't get in the way and holds up to a mess of personalized toppings.
FN Dish: What are some good protein options for non-beef burgers?
KA: I love both lamb and pork burgers. Poultry burgers are more challenging, since you have to cook them through and they often are dry and spongy.
FN Dish: Can you give us a few FNK tips for how to achieve juicy, flavorful burgers at home? Any pointers for patty formation, seasoning, cooking?
KA: I like freshly ground chuck…it is worth it to grind it yourself or get it from a reliable source. I am a big fan of grass-fed beef, I think it tastes better. Make a six-ounce patty and don't overwork the meat. For even cooking, make a small indentation in the center of the patty. Cook at medium-high and make sure the patties are well-seasoned with salt either on a grill or griddle. Don't press down with a spatula while it cooks or you will press out all the juices. Also, don't flip it a gazillion times…try to flip only once.  Don't overcook. Let it rest a couple minutes before serving.
Warning for those who missed Sunday's episode: Spoilers ahead!
On Sunday's mouthwatering Burger Showdown, Michael Cohen ultimately prevailed over Dad, wowing the judges in the speed round with his Northern Italian Trattoria Burger. Though Harold Cohen was a serious competitor, shooing Guy Fieri away when the host came by to chitchat, he was sincerely proud of his son's victory in the end.
Michael's $25,000 burger, topped with herb butter full of fresh basil and a crispy parmesan frico, transported the judges straight to Italy. The four contestants sought inspiration from all over the globe as well as the country to jazz up the all-American burger.
Harold Cohen's Alabama Smokehouse Pig Burger offered a very Southern condiment that we're now eager to try: white barbecue sauce. Dani Turk channeled the Big Easy with her signature Muffaletta Burger.
In the speed round, Dani was a bit nervous about preparing her It's All Greek to Me Burger for judge Michael Psilakis, a renowned Greek chef. He wasn't too harsh, but did give her a good tip: use yogurt in the feta dressing instead of mayonnaise. You can make Dani's recipe with this tweak for more authentic Greek flavor, or try Ellie Krieger's Big Fat Greek Burger for a leaner take made with turkey.
Signature round leader Chris Osserman went Southwestern with his flavors and downsized his burgers into Great American Southwest Sliders. Always a fun party food, we've got lots of slider recipes on FoodNetwork.com, from Bobby's Sliders with Chipotle Mayo to Rachael's Steakhouse Sliders with Mini Steak Fries.
Too bad Guy couldn't jump into the competition while hosting — from all of the burger-sampling he does on Diners, Drive-Ins and Dives, we're sure he has plenty of ideas up his sleeve. Try Guy's Killer Inside-Out Burger with Worcestershire Tomato Ketchup or his Turkey Burger Patty Melts.
Check out our Burger Recipe Collection for many more ideas. No matter which burger recipe you choose, don't forget to follow Katherine's essential tips for delicious results.
Tune in next Sunday at 9pm/8c for a super-sweet episode of Ultimate Recipe Showdown: Cakes & Desserts.
More posts from Sara Levine.
Similar Posts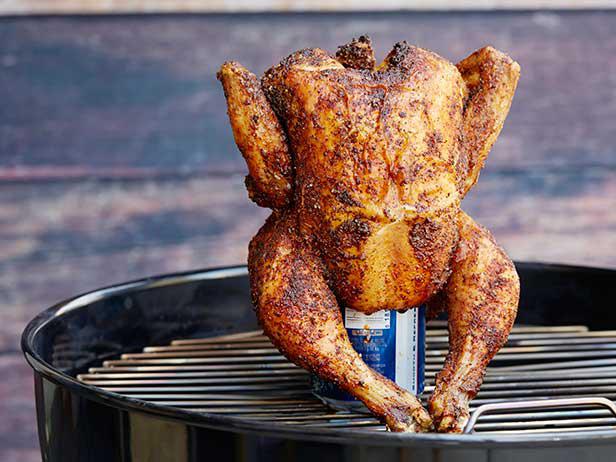 This clever grilling technique is easy enough to perfect even on your first try making it....