Janet Johnston's road to Food Network started two years ago, when Pat and Gina Neely headed to Denver for an episode of Road Tasted with the Neelys. They stopped in at Savory Spice Shop, which Janet owns with her husband, Mike.
The Johnstons and the Neelys hit it off right away, and since then Janet and Mike have guest-cheffed on episodes of Down Home with the Neelys and Paula's Best Dishes. It soon became clear that Janet's delicious spice-inspired food deserved a show of its own, and the idea for Spice & Easy was born. The new show premieres tomorrow morning at 9:30am/8:30c.
The Colorado shop owner and home cook films in her home kitchen as well as in the nearby Denver outpost of Savory Spice Shop. Janet couldn't be more excited to share her love of spices and cooking with Food Network fans: "We're having a little viewing party with our employees…It was my husband's excuse to buy a 55-inch TV!"
To get to know FN's newest star, read our 20 Questions for Janet Johnston.
1. What are five spices everyone needs in their pantry?
Can we eliminate salt and pepper? That just has to be a given; they are such important ingredients! Okay, then I'd start with a really good fresh ground cinnamon. I don't know if this is cheating, but seasonings and blends are really important—I'd do an Italian herb blend and a paprika-based barbecue blend. A really good vanilla extract. Lastly, a good seafood blend like some kind of a citrus pepper or garlic pepper—a pepper-based blend. Those are some great basics that will get you there. I carry almost 500 products so this is really hard for me!
2. What did you have for dinner last night?
I made leftovers with my carrot risotto. Wow, I'm glad I made a good dinner last night…if that was my frozen pizza night I would have been embarrassed! I made the risotto two nights ago for dinner, so with the leftovers I made patties that I folded around mozzarella cheese. I floured and panko-breaded them and gave them a light fry. Mike had three of them and they were the size of burgers!
3. Favorite breakfast?
I'm a cereal girl. I could make three-course meal out of cereal. Start with something light, then something branny for your main, and something sweet for dessert. Right now I'm into Cheerios and I sprinkle a honey powder over them.
4. What's a spice that's often misunderstood?
I would say curry. Basic home cooks are so much more savvy than they used to be—everyone's getting on ethnic food train and I love that. But so often people think that when I say curry, I'm talking about something that's incredibly difficult, pungent and overwhelming and hot. It's a real effort to turn that around. We have a barbecue spice blend that has a base of yellow curry. I give that to people who say they hate curry, and they love it! I love to open people up to a whole new spice family.
5. New spice you've recently discovered?
Black garlic. It's a Korean product that's basically fermented garlic. The garlic cloves come to you as a bulb and the cloves are jet black and gummy. They're actually really sweet and fig-like. I use them where you would use regular garlic—recently in a shrimp pot pie and it was just phenomenal.
6. Guilty pleasure food?
I am a tomato soup and grilled cheese fanatic. I use cinnamon raisin bread, cheddar, and thinly-sliced Granny Smith apples. It's like dessert. That is my guilty pleasure grilled cheese. No soup required!
7. Favorite vacation spot?
For our honeymoon, which was more than a year after our wedding because we had just opened up a second shop, we went to Bali. Being down there by the Spice Islands, we saw cinnamon trees and clove trees and real vanilla beans, with the vines growing up the sides of trees. The Balinese were amazed that I had never seen that. Being in the business, to really see spices growing in a natural habitat was pretty special.
8. Dream vacation destination?
Morocco. I want to go into the spice bazaars, and I just love Moroccan food and Moroccan blends. They've got that wonderful sweetness. The spice blends tend to be pretty inticrate—18 or more different spices. We managed to create one that is really close with just six.
9. Do you have any pets?
Our dog, Bounder. We adopted him from a shelter—he has a couple attachment issues and follows me around.  You'll see him on the show—my husband says Bounder gets more air time than he does!
10. Coffee or tea?
I am both. My goal lately is to drink tea during the week, preferably a green tea, and splurge on the weekends and have a rich coffee in my French press. But I end up drinking it during the week when my husband is making it in the morning and it smells so delicious.
11. How do you take it?
Tea, straight up. Coffee, I'm a milk girl, and I usually use my spiced vanilla bean sugar (a recipe that Janet makes on Spice & Easy's first episode). I add cinnamon and mace and a little ground cardamom seed which gives it an amazing Turkish coffee flavor.
12. Favorite TV show? Doesn't have to be a food show.
I love Dexter, which is a little sick but I absolutely love it. I'm also a huge Project Runway fan. You wouldn't know looking at me, but I love the creative process of fashion. United States of Tara is awesome. And of course, a million food shows.
13. Person you'd love to cook with?
It's not a famous person, but I've always wanted to invite my employees over different nights to cook. They all have such different ways to connect food and spice. You'll see some of my employees' recipes on the show. They're inspired by working at the shop and come up with things I've never thought of. So they inspire me as a result. They're like family to me.
14.  One food you couldn't live without?
Pasta. I love pasta, plain or with a sauce or with just olive oil, or with herbs in it, or vegetables.
15.  Favorite food from childhood?
I came from a family where my mom was a great mom and always had dinner on the table, but she had her six staples. I came into good food later in life. I guess it would be memories of when my dad was home. He was a truck driver and was on the road a lot. He'd come home and do burgers in the summer. We'd do burgers, potato chips and French onion dip.
16.  Favorite ice cream flavor?
I am a big fan of rocky road. But then I can go completely opposite and do a butter pecan.
17.  Favorite holiday?
Thanksgiving, because you can eat and eat and make food and entertain and go crazy. This year I did the most amazing turkey with my mother-in-law. We brined it and it was just delicious.
18.  Favorite book?
Tom Robbins, Jitterbug Perfume.
19.  Favorite cookbook?
I'd have to say Julia Child's Mastering the Art of French Cooking. I love to sit down and read it, and when I cook out of it I learn something. I feel like she's there. It's that detailed.
20.  Signature dish, if you had to pick one?
I can do an amazing chicken mole. It tastes traditional, but you don't have to work on it for a day and a half. We have a spice blend that is traditional mole in a bag, you add your tomatillos, add your raisins and you're pretty much there. The way we've created the blend, we've done all the roasting and grinding for you. I swear by it.
Catch Janet's show Spice & Easy on Saturdays at 9:30am/8:30c and check back in with FoodNetwork.com for her spiced-up recipes.
More posts from Sara Levine.
Similar Posts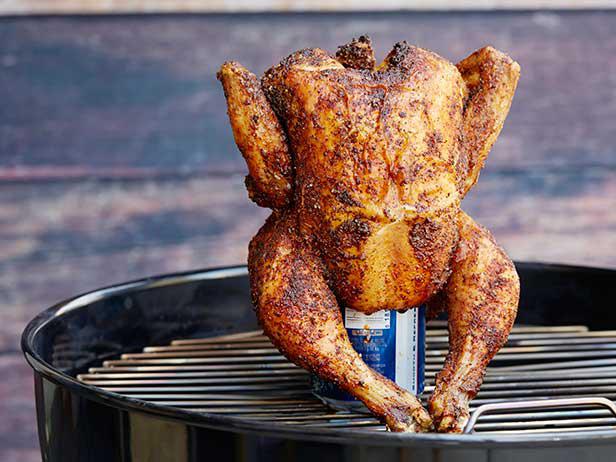 This clever grilling technique is easy enough to perfect even on your first try making it....