The mood was festive on Ultimate Recipe Showdown Sunday as four competitors showed off their best party recipes. This week's personalities were as fun as the food—we had a black-belt Grandma, a young clothing designer who poured himself a cocktail during the competition, a TV news reporter and a former rocker. Throwing a party with the four of them—plus fun-loving URS host Guy Fieri, of course—would surely be a good time.
Like last week, we sat down with Katherine Alford, Vice President of Food Network Test Kitchen, to get her take on the Party Food theme.
FN Dish: What makes party food a little more special than everyday meals?
Katherine Alford: This is when you pull out all the stops. You want a little wow and are willing to go the extra mile to make your friends feel special. Cooking for friends is such a generous act.
FN Dish: You've just invited guests over for an impromptu celebration. What's your easy go-to party dish (or dishes)?
KA: I think if you have eggs and potatoes, a Spanish Tortilla (pictured above) is always a winner. It's a classic tapas dish that is easy to prepare, and you can add herbs and other flavorings to make it your own. Super versatile. I also always keep a bag of handmade Chinese dumplings in the freezer from Chinatown. Hot pot stickers always make folks happy. Also, anything with cheese. Even a tray of mini grilled cheese sandwiches, if presented with style, say "Welcome."
FN Dish: Any tips for hosts who want to make and serve delicious party food—but also enjoy the party?
KA: Do-ahead dishes like dips and Spanish tapas are of course no-brainers. But have a DIY element too that guests put together themselves, like a mini taco bar, fondue or kebabs and s'mores on the grill.  Don't be afraid to bring the party into the kitchen; it makes it all the more fun.
Warning for those who missed Sunday's URS episode: Spoilers ahead!
What says party better than margaritas? Dave Fogelman's $25,000-winning recipe for Margarita Shrimp and Scallops got some criticism for its presentation, but all of the judges thought the flavors were spot-on. They especially loved the fresh, colorful salsa. You can get creative and plate yours however you like.
Crostini and bruschetta are always easy crowd-pleasing party appetizers, and the Three-Cheese Crostini (above) that "Karate Grandma" Barbara Estabrook prepared won raves. As Katherine points out, "anything with cheese" usually makes good party food! Cheese also proved to be a key ingredient in last week's Comfort Food competition.
Having guests over this weekend? We've got an excellent Food Network Kitchens recipe for Katherine's favorite Spanish Tortilla, Guy's own recipe for Ginger Pork Pot Stickers, plus all eight URS recipes from the Party Food round and hundreds of other ideas for entertaining on FoodNetwork.com.
Go seasonal for your gathering with our Spring Entertaining Guide—it's got dozens of party recipes that celebrate the beginning of warmed-up weather, from White Pizza with Arugula to classic Lemon Bars.
Make sure to catch URS this Sunday at 9 pm if you like your food to pack some heat. The Hot and Spicy competition is next up, and the fiery recipe contenders include Spicy Shrimp and Pork Meatballs, Chipotle-Rubbed Steak Tacos and Thai Curry Chicken Noodle Soup. To keep you spicy food fans sated until then, here's one of Guy's top recipes: Spicy Tangerine Beef.
More posts from Sara Levine.
Similar Posts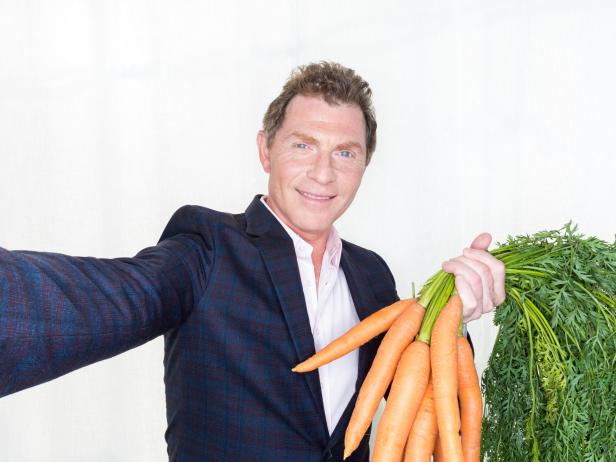 Food Network star Bobby Flay is no stranger to the idea that people want to eat more fruits and vegetables....