Recently I've become obsessed with The Best Thing I Ever Ate—the problem is, this show makes me way too hungry. While I usually just salivate in front of the TV, after watching the "Meat-Fest" episode I got proactive.
When Michael Symon professed his love for the Large Format Feast at Resto in New York City, a lightbulb went off in my head: "That's how I'm celebrating my birthday this year!" At the feast Michael described, the restaurant would procure a whole animal of your choosing and prepare it every which way for a three-course feast.
We called Resto, a cozy little Belgian-influenced restaurant, and they were happy to set up a Large Format Feast for me and my friends with a week's notice. The manager then sent over a list of animals from which to pick our protein. I ultimately settled upon the spring lamb, although goat (Michael's choice) and Berkshire pig were also tempting.
Michael didn't let us down—the LFF was a huge hit with our group of eight. The meal kicked off with lamb kidney skewers strewn with lamb bacon, yogurt and beets (pictured above). Then we moved on to a kale salad with crispy lamb (below) and a platter of lamb sausage and porcini-crusted loin.
The main course featured family-style Thanksgiving-size platters of (you guessed it!) lamb, from ribs to chops to shoulder to loin. Sides of brussels sprouts, mashed spicy sweet potatoes and cauliflower gratin were excellent complements to all that meat.
Some at the table were freaked out by the head, but the adventurous among us dug in to taste the brain (kind of chalky, if you ask me).
It was a wonderful birthday celebration, and I have Iron Chef Michael Symon to thank for the tip. Next up, Butter Lane for cupcakes, per Ted Allen's suggestion!
Have you checked out a FN star-recommended spot in your town? How was it?
For more restaurant tips, check out a new episode of The Best Thing I Ever Ate tonight at 10 pm. You'll hear where Ted, Ina, the Neelys and others go for a "Hot & Spicy" fix.
More posts from Sara Levine.
Similar Posts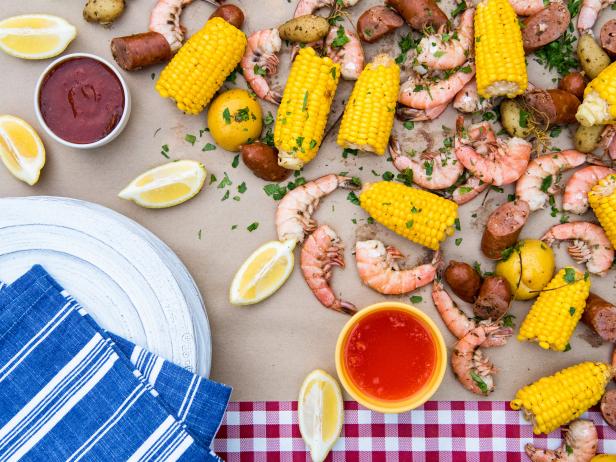 Have friends over — or embrace leftovers — with these Food Network recipes that feed more than four. ...