The heat is always on in the Ultimate Recipe Showdown kitchens, but it got even hotter this week with the Hot & Spicy competition. The contestants' fiery flavors spanned the globe, from Thai chicken soup to Indonesian salad to Mexican tacos.
Once again, we sat down with Katherine Alford, VP of Food Network Test Kitchen and veteran URS judge, to get her tips on cooking (and eating) spicy foods.
FN Dish: Is a dish ever "too spicy" for you? Were you worried at all that one of the contestants might overdo the heat in this round?
Katherine Alford: Yes, a dish can be too spicy, if it's hot just for the sake of being hot and taking your head off. The best spicy food has more than just incendiary heat. Even dishes that use habaneros, the hottest chile, should be balanced to play up its fruity quality. A good hot and spicy dish should have enough going on so that the heat is part of a larger taste.
FN Dish: The dishes in this round represented many diverse cuisines. What are some of the best international cuisines for spicy food lovers to experiment with?
KA: Of course the first that comes to mind is Mexican, as well as a wide range of Asian cuisines such as Szechuan, Vietnamese and Thai, Indian…or Indonesian like our runner-up. But what is interesting is that spices and chiles can be found in many cuisines…one of my favorite peppers is the Aleppo pepper that is used in Turkish and Lebanese food. It's smoky, almost meaty, and it packs a punch.
Try Bobby Flay's recipe for Tuna Crusted with Aleppo Peppers.
FN Dish: What are some good drinks (alcoholic and non) to serve with spicy food?
KA: Beer is a great complement. With all the terrific craft brews being made these days, you can make some super fun pairings.  I also like the Aqua Frescas of Mexico, these super-refreshing fresh fruit drinks are ideal with spicy foods. And I have a real weakness for Thai Iced Coffee or Chai with spicy curries.
Warning for those who missed Sunday's episode: Spoilers ahead!
Agua Frescas would be delicious with this week's winning dish, Julie Merriman's Chipotle Rubbed Steak Tacos Mole. Chef and fellow judge Michael Psilakis gave this recipe some very high praise: He said he'd make it for his family at home. At first, the judges worried that Julie had too much going on in this recipe, but with her smart shortcuts—like using peanut butter in the mole sauce instead of going the traditional route of grinding whole nuts—the aspiring chef was able to pull it off with delicious results.
On FoodNetwork.com, check out all eight URS recipes from the Hot & Spicy round, including runner-up Ken Hulme's Spicy Shrimp and Pork Meatballs with Rujak Sauce (pictured above). We've also got many more recipe ideas for spicy food lovers.
As any Bobby Flay fan knows, Bobby loves his chiles. He's also an expert at balancing their heat—a very important aspect of cooking with hot peppers. To snack on while watching the Final Four this weekend, make Bobby's Grilled Chicken Wings with Spicy Chipotle Hot Sauce and Blue Cheese-Yogurt Dipping Sauce. In the mood for something a little more elegant, but still simple? Try his Grilled Spicy Filet Mignon Salad with Ginger-Lime Dressing.
URS host Guy Fieri also likes dishes that pack some heat—he's got plenty of spicy recipes in his repertoire. For fun game-watching finger food, try his Cilantro Wrapped Prawns with Spicy Pickled Pineapple or Pretzel Chicken Tenders with Spicy Honey Dijon Sauce. Guy even gives cocktails a kick: Try his Spicy Agave Wave, spiked with jalapeno.
Tune in this Sunday at 9pm/8c for Ultimate Recipe Showdown's anticipated Burger Competition. You'll see two rounds of burger madness, eight burger recipes, and a URS first: A father vs. son burger showdown!
More posts from Sara Levine.
Similar Posts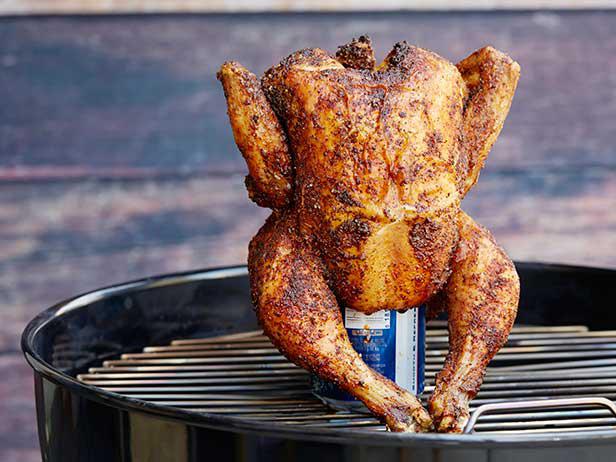 This clever grilling technique is easy enough to perfect even on your first try making it....