Ultimate Recipe Showdown Season 3 kicked off with the Comfort Food round on Sunday, and we're already quite jealous of the judges. While host Guy Fieri runs the show and checks in with the competitors, these three folks with esteemed palates get to sit back, watch the live cooking action and taste eight dishes perfected by home cooks. Who wouldn't want that job?
After each episode this season, we're sitting down with Katherine Alford—Vice President of Food Network Test Kitchen and URS judge—and asking three questions about the week's theme. Today she shares her insights on comfort food.
FN Dish: What makes a dish "comfort food"?‪
Katherine Alford: Something that hits an emotional cord, soothing, nurturing and generous. Comfort also can be inspired by who cooks for you, like a favorite friend or relative. Comfort food can come in a myriad of forms… but most likely at its base it's got a serious carb thing happening, like mac and cheese, grilled cheese, or my favorite, a buttery baked potato.
FN Dish: What sets a great mac and cheese apart? We're sure you got several submissions!‪
KA: Wow…This is sooo personal. That's why there are so many variations. To some people, like my 13-year-old daughter, it is all about ooey-gooey cheese and no contrasting texture. Me, I like a great cap of perfectly buttery bread crumbs on top to contrast with a creamy cheese and a nice chew of the pasta. Either way, it should be balanced so you are happy after a bowlful. ‪‪
FN Dish: One of the comfort food contenders this week was a dessert (Kimberly Zeidner's Ultimate Chocolate Peanut Butter Torte). When you want comfort food, do you crave sweet or savory?‪
KA: Depends on my mood… some days I am all about grilled cheese and, on others, bring on the cookies.‪
As Katherine points out, comfort foods can be very personal and everyone has a favorite—whether it be pizza, macaroni and cheese, sweets or something less expected, like URS contestant Riccardo Costa's Escaped Birds skewers.
When you're seeking a great comfort dish after a long day, we've got all eight URS recipes plus hundreds of other comfort foods on FoodNetwork.com. For inspiration, browse this slideshow of Comfort Food Classics, from meatloaf to casseroles to homemade cookies.
If you missed this week's episode, skip to the next paragraph to avoid a spoiler. On the Comfort Foods episode, Gail Churinetz took home the $25,000 with her recipe for Crawfish and Andouille Sausage Pizza. The judges loved the cheesy, spicy Cajun combination and Gail's excellent crust. Our pizza recipe collection has all of the info you need to make other awesome pizzas at home—from dough-making tips to dozens of topping ideas.
URS contestant Emily Hobbs may not have taken the big prize with her Buffalo Chicken Macaroni and Cheese (pictured), but mac and cheese is certainly a comfort food all-star. Check out our Grown-Up Mac and Cheese slideshow of five different recipes that put a twist on the classic.
This Sunday night at 9 pm, URS is back and it's all about Party Food. Think pot-stickers, three-cheese crostini and empanadas. Once again, we're envious of Katherine and her fellow judges (chef Michael Psilakis and Rosemary Ellis, editor of Good Housekeeping). Guy also seems to have a blast hosting the show — and sneaking bites when he can.
Check back in with the FN Dish next week for our recap and recipes. And if you've got Party Food questions for Katherine, leave them in the comments!
More posts from Sara Levine.
Similar Posts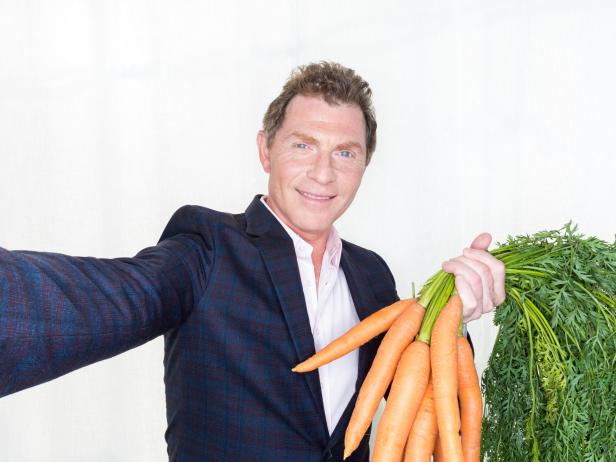 Food Network star Bobby Flay is no stranger to the idea that people want to eat more fruits and vegetables....