Earlier this week, Sandra Lee was busy working on recipes in Food Network Kitchens. She took a break to sit down and chat with us about her new season of Sandra's Money Saving Meals, premiering this Sunday at 12pm/11c.
FN Dish: This season's premiere of Sandra's Money Saving Meals is all about the Bake Sale. When you visit a table full of great-looking treats, what's your pick? Cookie, brownie, cupcake, something else?
Sandra Lee: Snickerdoodles. If they have a snickerdoodle, I'll definitely buy that.
FN Dish: What's your wallet-friendly take on this classic fundraising event?
Sandra: I wanted to show that it can still be inexpensive to throw a fabulous bake sale. And not just a bake sale that's all about sweets, but a bake sale that also offers savory items. So that way, if you're walking by, there's no reason to say no. You can't say, "I can't have sugar because I haven't eaten anything." Well, we've got Ham and Cheese Pinwheels. Have that and then you can have a brownie! Cookies are always good, too; brownies already cut and packaged are good. Cupcakes can be good but glazes are better than high icing. Cake is great, but pieces should always be pre-packaged so you're not touching it. Avoid anything that's hard to slice and messy. Banana cream pie—not so much.
FN Dish: You're the spokeswoman for Share Our Strength's Great American Bake Sale, an awesome charity that raises money to end childhood hunger. Can you tell us a little more about GABS?
Sandra: Great American Bake Sale is a big annual fundraiser—I got involved years ago when I was a columnist for Parade magazine. The need has really expanded—last year the need was 12 million children, this year it is 17 million children. It's amazing how wonderful it is—everybody can participate and have a good time. You can have a bake sale with your church, with your school, with your girlfriends at the local grocery store, with the Chamber of Commerce. It's easy to do.
FN Dish: Any tips for packing sweets for a bake sale or otherwise to go? It's so frustrating when beautiful baked goods fall apart or get crushed in transit.
Sandra: Bargain party stores have an incredible aisle of all that stuff. Even faux-silver platters for 97 cents or 54 cents. All those fancy cupcake carriers—they cost more than the cake!
FN Dish: You're constantly coming up with new budget-friendly recipes…where do you find inspiration for new ideas?
Sandra: Absolutely everything inspires me. We come up with themes and go to the grocery store and kind of put those themes together as we walk up and down the aisles. I learn a lot in this show. If you go out to a restaurant and you see a fabulous Thai dish, you want to know how to make it at home. If it has lobster, what's the next best thing? If it's shrimp…instead of a shrimp cake, can you do a tuna cake? It's kind of improvising too, like taking old favorites that are kind of high-end and making them modern day and money saving. But still delicious.
A result of Thai restaurant inspiration: Try Sandra's Thai Chicken recipe.
FN Dish: How do you create meals on a budget that are still healthy? Sometimes foods that are good for you—like organic meat and produce—can be pretty expensive.
Sandra: There are a lot of different degrees of organic and I don't get into that, I'm not a nutritionist. What I do get into is, for example, when it comes to buying spinach—the spinach you buy in the frozen section versus the bagged spinach that you buy in the produce section. The same one pound of spinach that you buy in the frozen section is already washed, cleaned and de-stemmed for you. So you're getting more edible product in this pound. And, the stuff in the bag was ripened on a truck. The frozen spinach was vine-ripened. I give you a lot of that kind of information so you can make a decision.
Use frozen spinach to make Sandra's Spinach and Potato Frittata.
FN Dish: What else can we look forward to on this season of Money Saving Meals? We love your Round 2 recipes; they make leftovers a lot more fun. Will we see more of them?
Sandra: Every episode, that's part of the deal. You'll see in every single show, two main courses and two Round 2 recipes. So you get four meals in one show, plus a dessert, plus a mocktail and a cocktail. You're getting seven recipes in a single show. You'll see more good food. Great, great food. The work has never been so high on the bar. It was a pleasure to go in every single day. The entire staff was just so tight. The deals are better than they've ever been before. I think most of our meals are coming in at under $4, certainly under $5. And it's a big plate of food. It's beautiful, healthy, smart food.
Try Sandra's easy Black Bean Burgers and use the leftovers for a Round 2 dish of Black Bean Enchiladas.
FN Dish: Easter's coming up next week—any good budget tips for Easter baskets?
Sandra: Make your own chocolate! Melt down chocolate chips—they're actually one-third of the price of chocolate bars. You can make your own Easter eggs, they have the molds at crafts stores. They also have great inexpensive baskets. And you can buy the plastic snap-together eggs that are something like $1.19 and you get 24 of them in every color. Instead of putting a big bag of candy in the basket, you put two candies in each egg.
Add some Semi-Homemade treats to your spread of Easter sweets! Stock Easter baskets with Sandra's Peanut Butter Fudge Cups or go all out with her Easter Bunny Cake.
Catch all-new episodes of Sandra's Money Saving Meals on Sundays at 12pm/11c, starting this weekend! Then check back in with FoodNetwork.com for all of the recipes, including web-exclusive Round 2 dishes.
More posts from Sara Levine.
Similar Posts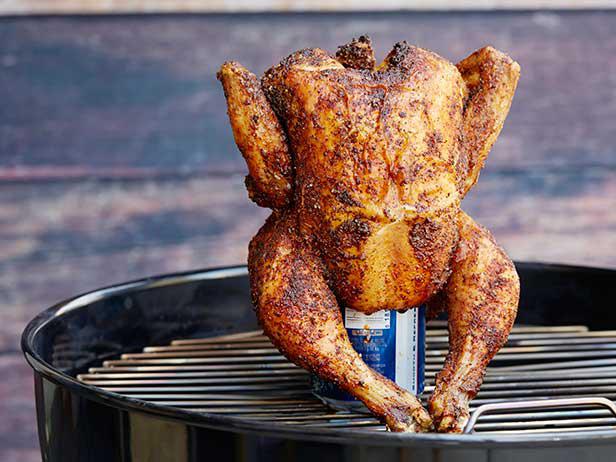 This clever grilling technique is easy enough to perfect even on your first try making it....