Food-wise, this is absolutely the best time of year. If a day goes by in July or August, and I realize I haven't eaten sweet corn and/or tomatoes, I think of it as an opportunity lost. These foods drive me crazy! I love them, I crave them, and they're only in season for the blink of an eye.
Yes, I know, grocery store magic makes corn and tomatoes available all year, but they only taste like they're supposed to taste when you eat them straight from the farmers' market. As a former farm stand worker, here are a few insider market tips:
Corn: As soon as you pick an ear of corn the sugars begin to turn into starch and the flavor deteriorates. So, find a farm stand where they pick their corn fresh every morning, then try to eat the corn the day you buy it (or at most, one day later). And resist the urge to shuck it at the market – the husk protects the corn from drying out.
Tomatoes: Taste them. I find that it's hard to tell what a tomato will taste like by looking at it on the outside. If a farm stand has samples, try a piece. If not, buy a small tomato, go home and eat it, and if it's good go back for more. And more, and more and more! Truly great tomatoes are rare and precious fruits.
Of course, I loaded up our summer Web features with recipes and tips for seasonal produce, and one of my favorites is Anne Burrell's Web-exclusive video, "Why We Love: Corn." Her recipe for Tagliatelle with Corn and Cherry Tomatoes makes a quick, simple dinner – a wonderful way to showcase the flavors of the season and a perfect recipe for our 5 Weeknight Dinners feature.
Here are some more seasonal recipes on my "to make soon" list – try them while you can!
Corn: Corn-Bacon Spoon Bread from the Food Network Magazine (pictured)
Tomatoes: Alex's Tomato and Watermelon Salad
Zucchini: Paula's Squash Casserole (one of the most popular squash recipes on our site!)
Peaches: Paula's Peach Cobbler (Our #1 cobbler recipe)
Plums: Sunny's Open-Faced Plum Tart (This looks super simple and delicious!)
Do you have any market tips or must-try summer recipes? We'd love to hear about them!
Kirsten, Web Editor
More posts from Kirsten Vala.
Similar Posts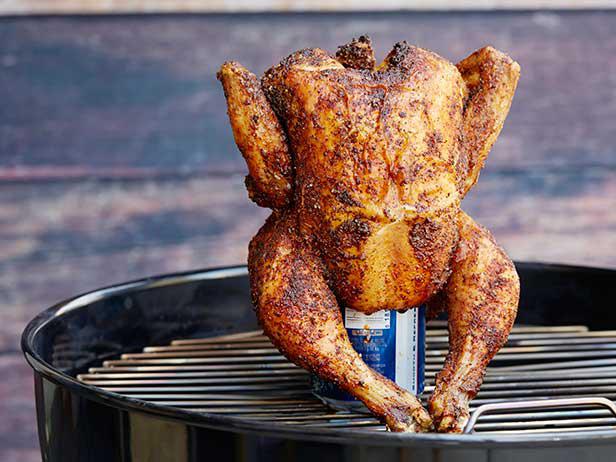 This clever grilling technique is easy enough to perfect even on your first try making it....