Thank you to the clever reader who discovered that the "blight" on Miriam's tomatoes was not in fact late blight, but blossom end rot. Our colleague and fellow gardener Derek Flynn concurred, sending us to the photos of blight here and here, which confirm that late blight starts at the stem and works its way down, while blossom end rot shows up at the bottom of the tomato. Upon further inspection, Miriam also noted that her plants lacked the white powdery spores and brown spots on the leaves that are common symptoms of late blight.
We're sorry if we misled you–we're passionate and protective gardeners (and cooks), not botanists–but we want to set the record straight in case we sent you into a premature panic. The good news is, most experts report that while you have to forgo the fruit you find with blossom end rot, it doesn't spread or infect the plant itself, and the same plant, given proper irrigation and healthy soil, may produce perfectly healthy tomatoes later in the season.
I continue to harvest a handful of healthy tomatoes about every other day, even in the middle of heavy rains and even hail. Each time I harvest, I count my blessings (and four-leaf clovers), wondering how I've managed to escape both blossom rot and the blight that has left some farmers with thousands of dollars in losses. I want to believe it's because most of my plants come from heirloom seeds that have had generations to grow strong and build resistance.
It's possible that has something to do with it.  I read here that Jack Algiere, the farm manager at the Stone Barns Center for Food and Agriculture, reported that while he's lost over 400 tomato plants, his older heirlooms have shown a healthy resistance as well.
But I'd be naive and arrogant to think that my tomatoes are in the clear from a blight that experts are calling "explosive" and "nuclear." I gave up the right to that kind of control the minute I took those seeds out of my hand and put them in the ground.
Yesterday, I was a guest of gardening expert Sean Conway on his show Cultivating Life, filmed in his lush gardens in Tiverton, RI. In his garden, while I saw gorgeously trellised sun gold and yellow pear tomatoes that looked as vibrant and healthy as any I'd ever seen, he saw tomatoes "suffering" from a summer that refuses to get hot and dry. He told me this was one of the roughest gardening seasons he's seen yet, and that he too, is still learning how to manage it.
But perhaps that is the beauty of the grand experiment of cultivating the earth. Like with food or medicine or science or history, there is always one more thing to learn.  That's what keeps me coming back year after year. And each time I step into the garden, I'm further reminded of the vastness of nature's wrath, knowledge and abundance, all gifts in their own way, that keep us humble, curious and hopeful.
Sarah Copeland, Recipe Developer and Good Food Gardens Spokesperson
More posts from Food Network Kitchen.
Similar Posts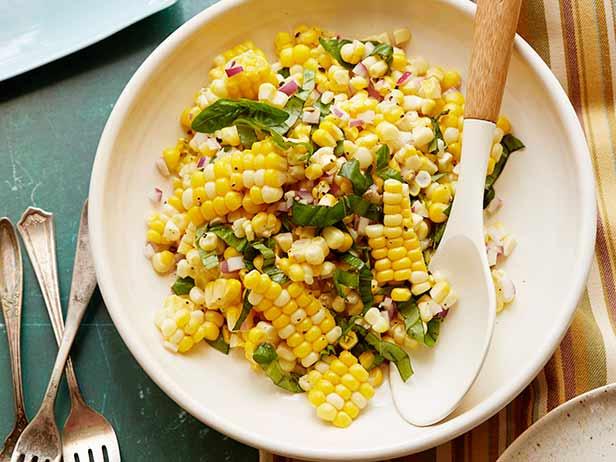 Think beyond the usual presentation of corn with butter and salt....