We are just one day short of Memorial Day weekend (Hooray!), and I'm sure that many of you are thinking about breaking out the barbecue to enjoy the holiday with family and friends. Do you think that this year's budget limits the menu to hot dogs and potato chips?
Well, I don't mean to cast aspersions on those tried and true backyard favorites, but you'll be happy to hear that you can provide an entertaining menu to satisfy all palates without blowing through your budget. Being a Food Network insider has allowed me to gather the best tips for feeding a crowd economically and deliciously.
1. Meat/Poultry/Fish. The cornerstone of your barbecue entertaining. Hot dogs are great for the kids, but they are often just viewed as an appetizer by the adults. If its not in your budget to throw down ribeyes, shrimp and chicken breast this year, no worries – try these alternatives:
London Broil or Skirt Steak. Marinate to tenderize and throw on the grill – just don't overcook. These cuts are great for tossing into fajitas, serving over salad greens or with grilled vegetables.

Whole Chicken. Purchasing whole chickens is far less expensive than buying boneless and skinless chicken breast. Think about making a rotisserie chicken on your grill (many grills have attachments), or cut the chicken up yourself and season with different marinades. One of my favorite preparations is just garlic, lemon, fresh oregano (or rosemary), salt and pepper. Check out other options here.

Local Fish and Shellfish. Whenever possible, go local. Generally speaking, things that are available in your area cost less to transport than those being shipped from faraway lands. Of course, there are other causes for disparities in price – farmed fish and shellfish are usually less expensive than wild caught. Rare or limited season goods may be more expensive as well, regardless of proximity to you.
2. Vegetables. Whether sitting atop a burger or as an entrée, vegetables are an important component of summer entertaining. While vegetables can be very expensive, it's not hard to save money by buying local produce whenever possible. For example, in the Mid-Atlantic states (NY, NJ, MD, PA, DE), it's prime time for peas, spinach, asparagus and lettuce and in the Southeast (FL, GA, SC, NC, AL, MS) look for asparagus, tomatoes, eggplant, peppers, corn, summer squash, beets and cucumbers. Several of these vegetables – asparagus, eggplant, peppers, corn, squash – are terrific on the grill, and peas, spinach, lettuce, beets and cucumbers are each lovely salad components. Need ideas?
3. Side Dishes. Not only are the sides often everyone's favorite component of the meal, but they are also frequently inexpensive to make. The old standby's – potato salad, baked beans, corn-on-the-cob, coleslaw, macaroni salad – are all economical choices.
4. Dessert. Fruit can be an inexpensive but luxurious way to end your meal – a fresh fruit salad, berries topped with whipped cream and mint, grilled peaches (also try pineapple or mango) over ice cream – each a beautiful way to utilize nature's bounty while staying within your own! Right now in the far West (CA, OR, WA) nectarines, peaches, strawberries, raspberries and rhubarb are in season while in the mid-West cherries, strawberries and rhubarb dominate.
5. Beverages. Stocking a bar for a holiday barbecue can really blow your budget. My suggestion? When friends and relatives ask what they can bring, have them bring their favorite alcoholic beverage. Your bar gets stocked, your bank account remains intact and no one can complain about not having their favorite drink available. I call that a win-win-win. What about non-alcoholic beverages? Skip the soda. Make a sparkling punch with fruit juices and club soda or sparkling water. Keep pitchers of the punch and pitchers of fresh water (flavor with sprigs of mint or lemon slices) on the tables at all times.
I hope that you use these tips to plan your menu and build your shopping list for your best Memorial Day barbecue ever! I'll be back in two weeks to talk to you about organics. Until then, I wish you a holiday full of sun and fun!
Yours in food frugality,
Roni
— Food & Finance: Taking in and Dining Out
— Food & Finance: Navigating the Supermarket
— Food & Finance: Kids Survival Guide
— Food & Finance: Protein
— Food & Finance: A rule to live by
— Food & Finance: Produce
— Food & Finance: Where to Shop and Save
— Food & Finance: Moving-Saving Tips
More posts from Roni.
Similar Posts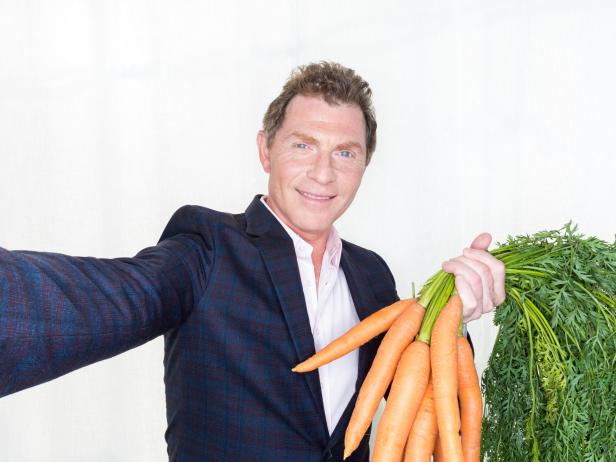 Food Network star Bobby Flay is no stranger to the idea that people want to eat more fruits and vegetables....