In honor of April Fools Day, I compiled a list of recipes that make everyone on the Web team chuckle (and/or grimace) whenever we run into them online. Which Food Network chef do you think scores highest in the ridiculous recipe contest? Hint: Her names starts with a "P" and should rhyme with "butter."

Food Network's Top 10 Most Outrageous Recipes
1. Fried Butter Balls – Paula – When someone first mentioned Paula's fried butter recipe to me I thought it was a good joke. I couldn't believe it when I actually ran into the recipe online!
2. Swamp Water – Sandra
3. The Heavyset Cheese Ball – Paula
4. "Fat Darrell" Sandwich – Paula
5. The Lady's Brunch Burger – Paula – It may not sound like much, but trust me. . . click on the recipe.
6. Seared Frogs Legs Casserole – Robert Irvine
7. Baked Potato Ice Cream – Sandra
8. Get Yo' Man Chicken – Neelys
9. "Is it Really Better than Sex?" Cake – Paula
10. Trompe L'oeil Meatloaf, Mashed Potatoes and Cauliflower, with Poached Tomatoes ("Fool the Eye" savory foods made to look like Chocolate layer cake, vanilla ice cream, and cherries jubilee) – Robert Irvine
Longest recipe title I've run across (30 words):
Go Oregonian! Oregon Style Pork Chops with Pinot Noir and Cranberries, Oregon Hash with Wild Mushrooms, Greens, Beets, Hazelnuts and Blue Cheese, Charred Whole Grain Bread with Butter and Chives – Rachael Ray
Most outrageous video clip:
Alton making a Pancake Cake with Avocado Frosting
If you dare, find the recipe here.
Honorable Mention (#11):
Mama Neely's "Sock It To Me" Cake
Everyone on the Web team is excited about Food Network Challenge: Last Cake Standing – premiering this Sunday, 8 pm/7c, six pastry chefs battle for $50K, the largest prize in Challenge history, etc. – so we decided to wrap all of our best cake recipes up into a super cake-tacular feature package.
Searching our site for cake content had one major side effect – an unquenchable craving for moist crumbs and sweet frosting!
I gave in and made the absolute easiest cake on the page, courtesy of Mama Neely. I'm calling it my "Fool-Your-Friends Cake" since it uses a cake mix but tastes completely and deliciously home made.
Spring fever? Check out our great Easter desserts and exciting new exclusive cupcake recipes from the Food Network Kitchens.
– Kirsten, Web Editor
More posts from Kirsten Vala.
Similar Posts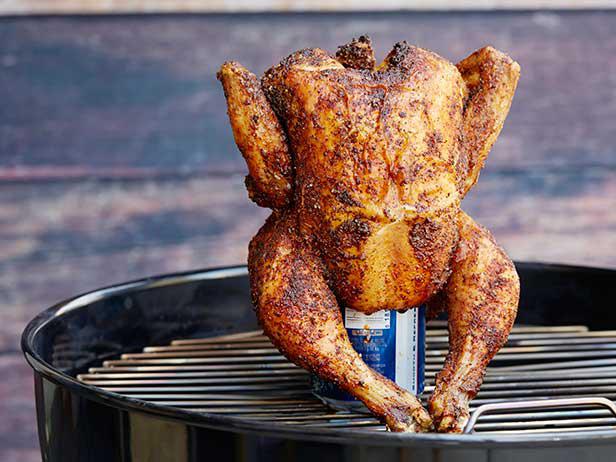 This clever grilling technique is easy enough to perfect even on your first try making it....