By now, you must have all seen the new Next Food Network Star (NFNS), Season 5 promo running – if not, take a minute to get caught up:
Well, my lovely department, Creative Services, oversaw the entire shoot (video and photo) for the ENTIRE promotional campaign of NFNS 5.

So, for all you Next Food Network Star junkies out there, impatiently counting down to June 7th, here is a play by play of the shoot day (from a secret inside source) to tide you over!:

6:20a – Arrive at Chelsea Market to assist making sure that the crew gets in and set up. The market is actually quiet. The production company, Mrs.K, starts setting up.
7:30a – The first four contestants, Teddy, Jen, Katie, and Michael arrive.




8:00- 10:00a – Separate and label the clothes for the contestants. Go through shirts with Michael, contestant, finally, decide on a shirt. Make sure that the contestants are in the right outfit at the right time, in the right place, throughout the day. Walkie talkie starts to weigh down whole body.

8:30a -Two more contestants, Jeffrey and Jamika arrive.


First shot of the day, at the vegetable market with Teddy and Jen:

10:00a – Bobby Flay arrives. He comes by himself. The last four contestants, Brett, Eddie, Melissa, and Debbie arrive as well.

As the contestants arrive throughout the day, the main objective is to make sure that they don't talk to anyone – working reality competition shows is all about staying clandestine when shooting in the field.

10:00a – Bobby has a serious wardrobe situation with a pinstripe suit miscommunication. Must do an emergency steam for the stylist. Remember from past experiences, that you can be bad at steaming.
10:15a – Coffee shoot with contestants Debbie and Melissa, and Bobby Flay. To reduce spillage, there is no actual coffee in the cup Bobby drinks from:

10:30a – Bob Tuschman and Susie Fogelson arrive on set from their day jobs at Food Network (Bob is head of programming, and Susie is head of marketing), for hair and make-up.
10:36a – Notice contestant, Brett, talking innocently to a crew member. Reluctantly and politely asks him not to because he can't talk to anyone outside of the other contestants.
11:15a – Quietly ride down in an elevator with Bobby Flay to…the elevator shoot.

11:30a – Bobby and Eddie shoot final scene:

"There's Bobby Flay" whispers becoming more frequent as the market gets more crowded.

12:00p – Elevator shoot with Bob, Susie and Bobby. They are all very comfortable with each other, like old friends.

1:30p – Bob Tuschman and Susie Fogelson wrap for the day.
1:30-2:00p Lunch – Sandwiches, chips, fruit. Contestants eat the same.
2:30p – Go to get Bobby Flay for next task, he's buying a fruit milkshake, and taking time out to snap a pic with two very enthusiastic, but gracious fans. He thanks them.
3:15p – Listen to Bobby Flay reading lines through headphones. He is both confident and professional as he zips through lines.
3:30p – Bobby Flay wraps. Someone offers to go upstairs to get his stuff for him from the 6th floor greenroom, but he doesn't mind getting his own stuff, and leaves in the car waiting for him.
4:30p -The contestants have down time, and try to balance the tiring day by playing Uno with their own crew, and then they watch part of Shawshank Redemption.
6:00p – Leaves for the day…exhausted.
Be sure to check out any and all FN updates now on twitter.com/_FoodNetwork!
-Sommer, Creative Services
More posts from Sommer.
Similar Posts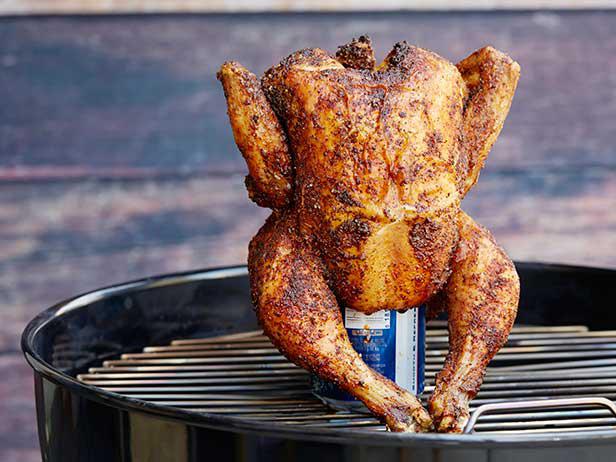 This clever grilling technique is easy enough to perfect even on your first try making it....