I must confess: I took a vacation this weekend, and still thought about work.
You see, I went down to Austin, Texas for a friend's wedding, and while perusing through a neat art gallery there called Yard Dog Art, I happened to do a double take on these interesting pieces for sale by former Austinite, Mike Miller.
When we shot the Food Network Tour video, I remember noticing this same art from Sunny Anderson's Cooking for Real set, and here they were again creeping up in my vacation (perhaps to remind me to get back to the office?). Can you spy the art I'm talking about behind Sunny? I'll give you a clue: It's right above the big, red arrow I pasted on the image:
When I first looked at these pieces on Sunny's set, I even remember saying to myself, "Oh that art is neat," but I had no idea the history behind the pieces….until now!
According to Mike Miller's bio, he creates these collages by cutting around images in vintage photos found in garage sales, flea markets, and estate sales. He then reverses the images and glues them on paper also purchased at these sales to create silhouetted art pieces like the ones he made on Sunny's set.
One of the best parts is that since Mike reconstructs and reuses existing materials out there in the world for his creations, it is very earth-friendly! GreenDepot.com, a "supplier of environmentally friendly and sustainable" items, also sells Mike Miller's art for exactly this reason.
When I came back to work today, I immediately shot our Design Director, Wendy Waxman, an email to both poke and prod for more info on Mike and to show her that I'd been paying attention to her work on the sets. Here is some insight from Wendy:
"When we first started the set, Ellen Waggett, the production designer, had some reference material with a silhouette. We liked the idea of the contrasting graphic artwork, but didn't want to use a standard silloutte…and THEN, when I was at the Chelsea Saturday garage, I saw Mike there with some sillouttes. They were that same original idea, but much quirkier, and done with talent and imagination! The colored backgrounds also worked well as a grouping, rather than just one piece of artwork…."
Cool, huh?
Rachael
Associate Producer, The FN Dish
More posts from FN Dish Editor.
Similar Posts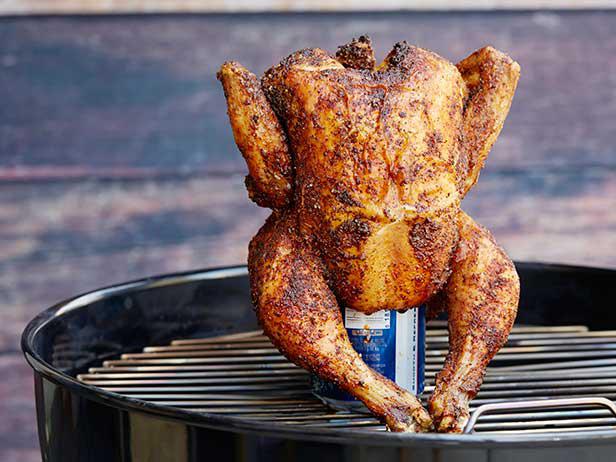 This clever grilling technique is easy enough to perfect even on your first try making it....