One of you asked if I cooked.  Yep. Many times a week.  Below is my all time favorite dish for friends and family.
Saturday night dinner parties carry high expectations.  My week is stressful enough.  So I go for very casual Sunday night "family" dinners.   No candles, no tablecloths, no fancy centerpieces.  Guests bring cheese or hummus. I pop open a Shiraz or Malbec, never more than $15. Tumblers, not wine glasses.  If I can't prepare the dish in advance, I ain't making it.
Below is a stuffed pork recipe I adapted from a week's cooking vacation I took in Amalfi, Italy at the beautiful  Luna Convento Hotel.  The chef who taught it was the charming Enrico Francese.  I heartily recommend Amalfi, the hotel and the dish.
Neapolitan Stuffed Pork (Braciola alla Napoletana)
Recipe courtesy Bob Tuschman
1 (2 to 3 pound) boneless pork loin
Kosher salt and freshly ground black pepper
1/4 cup grated Parmesan
1/4 cup pine nuts
1/4 cup raisins
2 garlic cloves, finely chopped
2 tablespoons chopped flat-leaf parsley
2 tablespoons olive oil
1 medium onion, chopped
2 tablespoons tomato paste
1 cup white wine
1 (28-ounce) can whole peeled tomatoes
1 bay leaf
Red pepper flakes, if desired
Take pork loin and lay lengthwise on a cutting board. Slice parallel to the cutting board, down the center of the loin, but only cutting about 3/4 of the way through, so as to open the loin up, like a book. Repeat process with each side of the loin, so as to open each side even further. You want a large flat surface to lay out the ingredients and then roll up.
Season the inside of the pork loin with kosher salt and freshly ground black pepper. Sprinkle Parmesan, pine nuts, raisins, chopped garlic, and chopped parsley on top of the meat. Roll the pork loin up, like a jelly roll, making sure to keep contents inside. Tie the roll with kitchen twine, once lengthwise, and a couple times around the sides. This will keep the roll intact while cooking. Season the roast with salt.
In a large high-sided saute pan over medium-high heat, add oil and heat until almost smoking. Sear all sides of pork loin, including ends, until completely browned. Remove to plate. Lower heat slightly and add onion, cooking until translucent, about 3 minutes. Add the tomato paste and cook, stirring constantly, until the paste starts to bubble, about 2 minutes. Add white wine, and using a wooden spoon, scrape up bits from the bottom of the pan. Cook for a few minutes to let the wine reduce slightly. Crush the tomatoes with your hands and add to the pan. Stir in the bay leaf and red pepper flakes, if using. Return pork loin to the pan and bring to a simmer. Cover and let simmer for about 1 1/2 hours.
Remove pork loin from the sauce and let rest for a few minutes. Season the sauce, to taste, with salt and pepper. The sauce will have reduced by half. Slice loin into 1/2-inch slices and plate. Spoon the sauce over the slices. Serve the remaining sauce alongside.
Yield: 6 servings
Prep time: 20 minutes
Cook time: 2 hours 20 minutes
Ease of preparation: Intermediate
Enjoy!
Bob
More posts from Bob Tuschman.
Similar Posts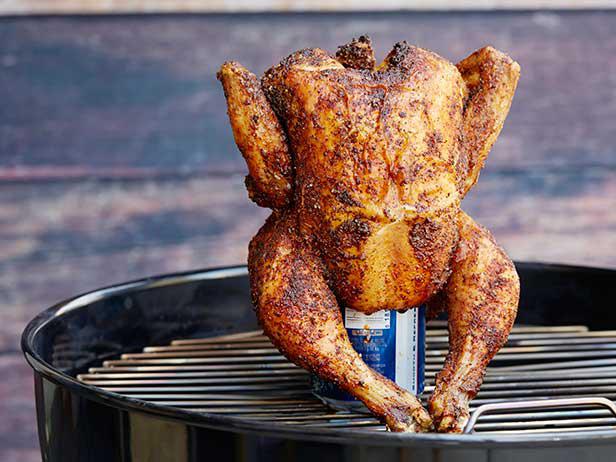 This clever grilling technique is easy enough to perfect even on your first try making it....