Recently, I was asked to judge a culinary competition in Sacramento put on by Jr. Chef Central, an organization that teaches cooking classes for kids between the ages of 10 and 15.
The competition was part of a larger "Culinary Convention" that included classes for about 200 kids on the subjects of pasta, baking, sushi, grilling, and pizza. In addition to those classes, all of the kids attended seminars on food styling, nutrition, farm to table, table setting and etiquette, and knife skills. There were even parent education classes to loop parents in on what the kids were learning. The convention was open to all kids, not just kids in the program.
I had no idea what to expect when I flew 3,000 miles to be a part of this. I was totally blown away by what I found.
The competition part involved 5 teams of students from the classes: each team had 3 regular students, 1 Master Jr. Chef (a kid who'd been through every level of the program) and 1 Chef Mentor from a local restaurant. The teams had the same themes as the classes. Each team had to make 3 dishes based on the theme as well as a mystery ingredient: figs.
While the kids were cooking, the judges (myself, Elaine Johnson from Sunset Magazine, and 1 of the Master Jr. Chefs) got to walk around and see how the kids were working together, assess their skills, and make sure they were following safety and sanitation guidelines. I simply couldn't believe how talented and comfortable these kids were in the kitchen. I walked by the sushi team at one point and 1 of the girls was making an unbelievable rose out of a cucumber. I asked her if her Chef Mentor taught her how and she said no, she read about how to do it online. Wow.
All in all, we tasted 15 courses prepared by the kids. They were judged on presentation, content, teamwork and sanitation. There were 2 awards, Best Dish and Best Team Overall. There was a tie for winning dish: a Fig Crostata with Basil Ice Cream from the Pizza Team and a Grilled Fig Pizza with Raspberry Sauce, Mascarpone, Fresh Mint and Caramel Sauce from the Grilling Team.
The winner: fig crostata with basil ice cream
The Best Team Overall was the Pizza Team and they prepared the Crostata mentioned above, Pizza Poppers with mushrooms, pepperoni, and a fig dipping sauce, and a Fig, Blue Cheese and Caramelized Onion Pizza with Arugula. If I hadn't been watching these kids make all the dishes, I would never have believed that this food was made by 10 to 15 year olds!
The idea of 200 young teens in one place at one time can be a scary one, but these kids were incredibly poised and dedicated. They were so proud of what they accomplished (win or lose) and I was so proud of them. Karla Lacey Minors, who runs Jr. Chef Central, is amazing and so is her program.
Jill Novatt, Executive Culinary Producer
More posts from Food Network Kitchen.
Similar Posts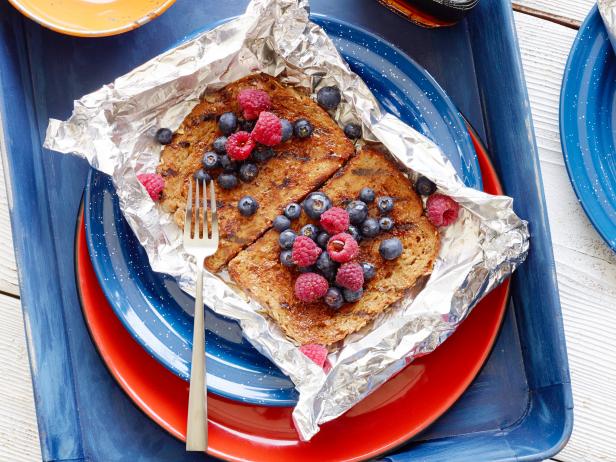 Maximize you're time outside this summer and grill up amazing breakfasts, lunches and desserts!...