I could hardly contain myself after finding out The FN Dish would be going to Ina Garten's Hampton home for last week's episode. Being an avid Barefoot Contessa viewer prior to working here at Food Network, I had to make a conscious effort to keep professional and suppress the fan inside who was begging for an autograph. With 133 comments on our Ina video and counting, it looks like I am not alone in my Ina devotion! So for that reason, I thought I'd reveal some cutting room gems left out of our final piece in last week's "Ina is Back to Basics" video:
GEM #1
Bruce asked Ina what Food Network shows she likes to watch, and after admitting that she doesn't have time to watch a lot of TV, this was her response:
INA: "Well I love Giada. I think Paula's show is fun."
BRUCE: "Yeah, you do like to cook with butter and garlic too"
INA: "Of course! But I think fried mac and cheese is a little off the charts for me!"
(Note to self: Do not bring Paula's Deep Fried Mac and Cheese to Ina's next picnic.)
GEM #2
Ina has a wonderful garden full of fresh herbs and vegetables, however, Ina confessed that she hadn't been up to speed in clearing out her overgrown zucchinis.
Did any of you know that they grew this big?? I could hardly contain my laugher when we were shooting and imagined that Ina had hidden this prop zucchini in the garden before we arrive. But alas, she assured me that zucchinis, if not pulled off the vine, will continue to grow and grow and grow…. I thought Ina might have state fair material on her hands until I looked up these fellow New Yorkers and their super-sized veggies.
GEM #3
Here is proof that Ina's fridge might be similar to the rest of ours. After Bruce asked Ina what were her go-to late night snacks when opening her fridge at night, Ina humbly said, "whatever doesn't have mold on it!" That's my girl!
That's all the extra scoop I have for now! But if you haven't already, be sure to check out her new Barefoot Contessa: Back to Basic episodes Saturdays at 1:30pm/12:30c.
-Rachael Knudsen
(Associate Producer, The FN Dish)
More posts from FN Dish Editor.
Similar Posts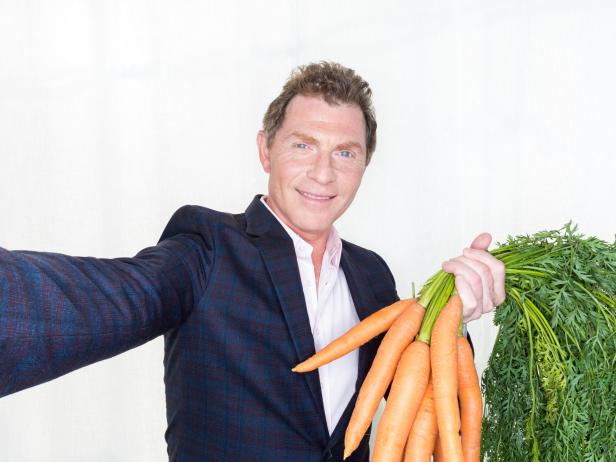 Food Network star Bobby Flay is no stranger to the idea that people want to eat more fruits and vegetables....